Is. Interiors
PORTFOLIO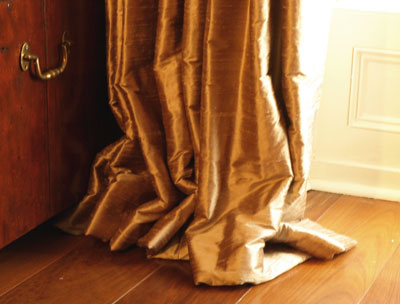 As with all portfolios, only a selection of work can be included but if you click on the curtain above there is a link to our facebook page which contains regular updates of our portfolio pieces. The work shown on the 'curtains' page is from Dublin homes that Is.Interiors has had the pleasure of working in.
The window treatment above are Designer's Guild silk, interlined curtains but we make up curtains in many beautiful designer fabrics. Nearly all fabrics benefit from interlining, even a quite heavy velvet can take a light-wieght interlining to really give the finished curtains that rich drape. Interlining a dark coloured fabric means that the curtain linings viewed from the road will show up a still-fresh cream instead of looking greyish.
The 'curtain details' page has close-ups of these four window treatments showing some of the styles of curtain and how they work in different settings. There are four different headings: goblet pleats, french pleats, upholstered pelmet and italian stringing with a variation of a cartridge pleat. Although they are very different in style, all show the quality of workmanship and attention to detail that really add value to your window treatment as they are made to last and afford many years of pleasure.